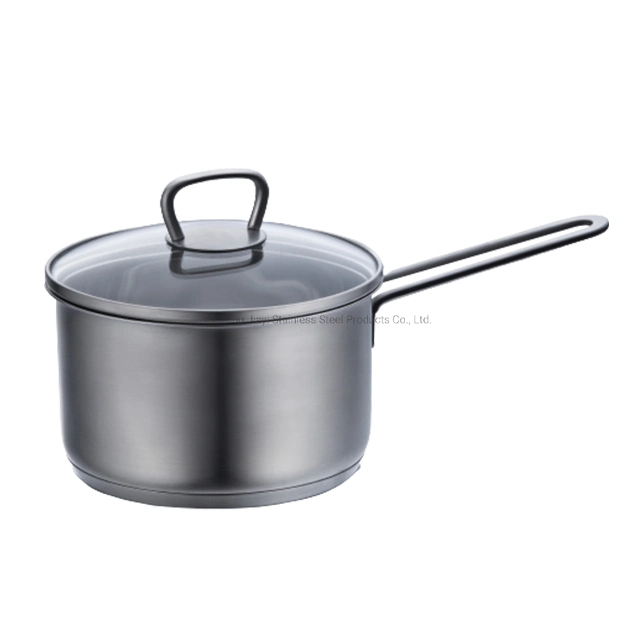 FEATURES:
-Offer wide range of diameter starting from 16cm to 20cm.
-High durability and scratch-proof properties, suitable for all types of hobs (including induction), dishwasher-safe, dimensionally stable, easy to clean, does not impart taste.
-Encapsulated base, conducts heat evenly for perfect cooking u-Used to cook stew, soups, goulash, pasta, for making soups and braise meet.
JIAYI IN CHINA
A QUALITY PAN IN THE KITCHEN CAN ALSO BE PLEASANT TO THE EYES;
A DELICIOUS DISH IS DETERMINED BY THE RECIPE AND THE KITCHEN WARE;
JIAYI WILL HELP YOU SHOW YOUR LOVE IN A PERFACT WAY;
JIAYI IS A TOP QUALITY PAN MANUFACTURER, AND A MODEL OF FASHION AND ELEGANCE;
FINE QUALITY AND REFINED CRAFTSMANSHIP MAKES IT YOUR LIFE LONG COMPANION;
ENERGY EFFICIENT, TINE-SAVING AND FUME-FREE, IT SHOWS HOW YOU CARE AND LOVE;
PLEASE SHARE THE SIMPLEST LIFE WITH HER AND CREAT A LOVING LIFE WITH THE BEST PAN;
AS A PROFESSIONAL STAINLESS STEEL PAN MANUFACTURER WITH 30 YEARS EXPERIENCE;
JIAYI MANUFACTURERS 4 MILLION QUALITY STAINLESS STEEL PANS ANNUALLY;
REMAINS UNRIVALLED IN EUROPEAN, AMERICAN AND SOUTHEST ASIAN MARKETS;
COMPARABLE TO NOTED GERMAN BRANDS AND INTERNATIONAL GIANTS IN QUALITY;
TODAY, JIAYI WALKS INTO THE WORLD HOUSEHOLDS;
SHARES WITH THE CONSUMERS ITS PURSUIT OF QUALITY LIFE;
AND OFFERS THEM KITCHEN PRODUCTS EXCEEDING INTERNATIONAL STANDARDS.